Who we are
Bergsma's Paint & Decor is an independent, family-owned paint and decorating retailer located in downtown, Milton, ON. As an independent, we pick and choose the brands we carry ensuring that we only sell customers products we trust.
Stop in and chat with owners Jeff and Sara Bergsma. Jeff can tell you everything there is to know about paint and stain whereas Sara is our in-house decorating guru. To this date, they've been able to answer every home decorating question thrown at them.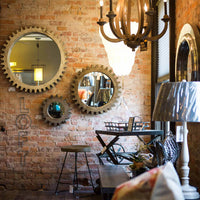 About our space
Nestled in downtown Milton, Bergsma's 7,200 square foot showroom is a one stop decorating experience. Customers will find a unique line-up of paint, home furnishings, window treatments, and modern and traditional lighting.
Bergsma's is constantly expanding in their range of products, striving to offer the best out there. Our showroom has an urban, contemporary look to it, showcasing unique pieces otherwise unseen in the Milton area.
Stop in to browse our large inventory or schedule a time to meet one-on-one with a decorator.