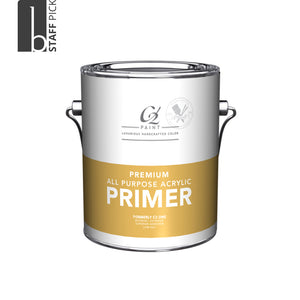 C2 All-Purpose Primer is a 100% acrylic primer designed for interior and exterior use. It's terrific adhesion makes application directly to surfaces such as galvanized metal and aluminum possible. It also comes in an accent base so it can be tinted to deep colors.
🏆 C2 Premium All-Purpose Primer is our staff pick for interior primer.
Product Advice
Paint Quantity Calculator
1 gallon of paint will cover ~400 sq ft. Whereas 1 quart of paint will cover ~100 sq ft. To get a rough estimate of how much paint you will need, run through these steps: 


1. Add together the length of each wall. 
2. Multiply the sum of the wall length by the height of the wall to 3. find the total square footage of your room.
4. Subtract 20 square feet for each door and 10 square feet for each window.
5. Multiply that final room square footage number by 2 to get the total square footage for 2 coats of paint.
6. Divide the number by 400 (gallon = 400 sq ft) to determine the number of gallons you need to purchase for 2 coats of paint.